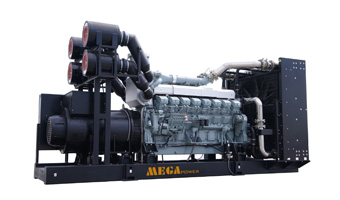 Mega Power MP-SM series diesel generator sets are powered by ShangHai MHI engine.
SME is a large international company in comprehensive business. ShangHai MHI engine filed is also famous and strong in the world for developed technology, stable performance, environment friendly emission and easy maintenance. Shanghai MHI engine is well applied in different applications, especially heavy industry field.
SME manufactures S6R2/S12R/S16R series engines with power range from 500KW to 2000KW.
MEGA
MODEL
POWER
DIESEL ENGINE
STRUCTURE TYPE
DATA
Standby
KVA
Prime
KVA
Brand
Model
MP-750SM
750
688
S6R2-PTA-C
●
●
○
○
MP-825SM
825
750
S6R2-PTAA-C
●
●
○
●
MP-1375SM
1375
1250
S12R-PTA-C
●
●
○
●
MP-1500SM
1500
1375
S12R-PTA2-C
●
○
○
●
MP-1650SM
1650
1500
S12R-PTAA2-C
●
○
○
●
MP-1875SM
1875
1625
S16R-PTA-C
●
○
○
●
MP-2000SM
2000
1875
S16R-PTA2-C
●
○
○
●
MP-2250SM
2250
2000
S16R-PTAA2-C
●
○
○
●
MP-2500SM
2500
2250
S16R2-PTAW-C
●
○
○
●