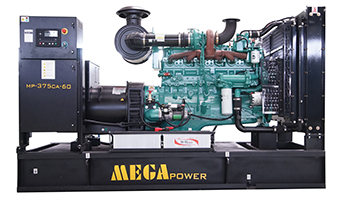 Mega Power MP-C series diesel generator sets are powered by Cummins diesel engines.
Cummins is the global leading manufacturer of diesel engine with complete power range, the product has advanced working performance, excellent reliability features, and economical maintenance features, etc. Especially that Cummins has more than 5400 authorized agents and distributors in 130 countries and regions around the world, with 24 hours after service and spare parts supplement.
Cummins has two main factories in China, one is joint venture Dongfeng Cummins Engine Co., Ltd. (DCEC) power ranged from 25kva to 250kva. Another one is joint venture Chongqing Cummins Engine Co., Ltd. (CCEC) power ranged from 250kva to 1500kva.
MEGA
MODEL
POWER
DIESEL ENGINE
STRUCTURE TYPE
DATA
Standby
KVA
Prime
KVA
Brand
Model
MP-28C
28
25
4B3.9-G1
●
●
●
○
MP-44C
44
40
4BT3.9-G1
●
●
●
○
MP-65C
65
60
4BTA3.9-G2
●
●
●
○
MP-80C
80
72.5
4BTA3.9-G11
●
●
●
○
MP-102C
102
94
6BT5.9-G1
●
●
●
○
MP-109C
109
100
6BT5.9-G2
●
●
●
○
MP-125C
125
115
6BTA5.9-G2
●
●
●
○
MP-142C
142
130
6BTAA5.9-G2
●
●
●
○
MP-170C
170
156
6BTAA5.9-G12
●
●
●
○
MP-175C
175
160
6CTA8.3-G1
●
●
●
○
MP-200C
200
181
6CTA8.3-G2
●
●
●
○
MP-220C
220
200
6CTAA8.3-G2
●
●
●
○
MP-275DC
275
250
6LTAA8.9-G2
●
●
●
○
MP-275C
275
250
NT855-GA
●
●
●
○
MP-303C
303
275
6LTAA9.5-G3
●
●
●
○
MP-350DC
350
312
6LTAA9.5-G1
●
●
●
○
MP-350C
350
320
NTA855-G1B
●
●
●
○
MP-375C
375
344
NTA855-G2A
●
●
●
○
MP-412C
412
375
NTAA855-G7
●
●
●
○
MP-450C
450
NA
NTAA855-G7A
●
●
●
○
MP-500C
500
450
KTA19-G3
●
●
●
○
MP-550C
550
500
KTA19-G3A
●
●
●
○
MP-650C
650
NA
KTA19-G8
●
●
○
○
MP-660C
650
575
KTAA19-G6
●
●
○
○
MP-688C
688
NA
KTAA19-G6A
●
●
○
○
MP-713C
713
650
QSK19-G4
●
●
○
○
MP-787C
787
712
KTA38-G1
●
●
○
●
MP-825C
825
750
KTA38-G2
●
●
○
●
MP-880C
880
800
KTA38-G2B
●
●
○
●
MP-1000C
1000
910
KTA38-G2A
●
○
○
●
MP-1100C
1100
1000
KTA38-G5
●
○
○
●
MP-1250C
1250
NA
KTA38-G9
●
○
○
●
MP-1375C
1375
1250
KTA50-G3
●
○
○
●
MP-1650C
1650
1500
KTA50-GS8
●
○
○
●