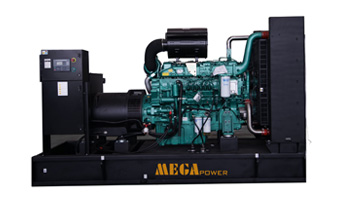 Mega Power MP-Y series diesel generator sets are powered by Yuchai diesel engines.
Yuchai is one of the most famous and strongest engine manufacturers in China with history since 1951. Yuchai provides the most cost effective products with wide product lines covering diesel, gas, gasoline and mixed gas engines for comprehensive applications like construction, agriculture, industry, marine and vehicle engines.
Yuchai is also well reputed in global market and keeps extending more business in the world.
MEGA
MODEL
POWER
DIESEL ENGINE
STRUCTURE TYPE
DATA
Standby
KVA
Prime
KVA
Brand
Model
MP-41Y-60
41.25
37.5
YC4D65-D20
●
●
●
○
MP-65Y-60
65
60
YC4D80Z-D20
●
●
●
○
MP-75Y-60
75
68.75
YC4D100Z-D20
●
●
●
○
MP-88Y-60
87.5
80
YC6B115Z-D20
●
●
●
○
MP-113Y-60
112.5
100
YC6B130Z-D20
●
●
●
○
MP-125Y-60
125
112.5
YC6B160Z-D20
●
●
●
○
MP-165Y-60
165
150
YC6B210L-D20
●
●
●
○
MP-207Y-60
206.25
187.5
YC6A245L-D20
●
●
●
○
MP-220Y-60
220
200
YC6MK265Z-D20
●
●
●
○
MP-275Y-60
275
250
YC6MK360L-D20
●
●
●
○
MP-344Y-60
343.75
312.5
YC6MK420L-D21
●
●
●
○
MP-385Y-60
385
343.75
YC6MJ480L-D21
●
●
●
○
MP-550Y-60
550
500
YC6T660L-D21
●
●
●
○